Numbers still on the rise. Express measures needed
1371.
This is the number of calls Kafa has received during the month of June. Yet again, as has been the case for many months now, it exceeds the number of calls received during the previous month.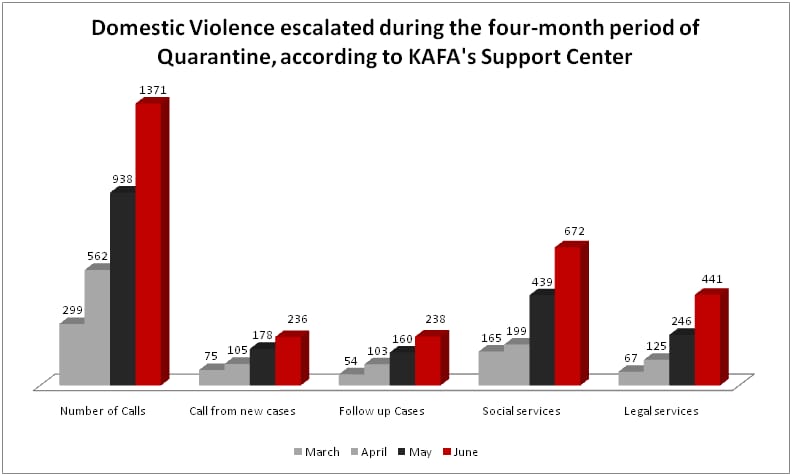 The victim's husband is still the primary abuser, engaging in all forms of moral, verbal, physical and economic violence and hindering his wife's freedom. And Kafa continues to provide social and legal services to women who are subjected to domestic violence.
But what is the use in keeping track of numbers and warning against their increase when some judges deal with these crimes in a manner that is disconnected from reality instead of taking swift measures, speeding up the trials of abusers and enforcing harsher sanctions? in June, legal authorities in Bekaa issued a decision to release a man who had stabbed his wife in an attempt to kill her last May.
This woman had left the house two months prior to the accident with her four children, the eldest being a ten-year-old girl. The husband, who has been released, came to the house, hit his wife, pulled the knife, cut her and tore her lungs. Their eldest daughter was next to her mother when her father stabbed her and tried to keep him away.
After the decision to release the husband, the investigating judge stepped down, which raises questions on this case, the interference that might have occurred and the overall course of justice.
That same month, on June 25, 2020, a father killed his daughter, who was less than four years old, as retaliation against her mother.
For crimes related to domestic violence not to remain mere numbers we publish every month and issues that some judges deal with lightly, as happened with this woman who survived an attempted murder, we demand, like every month, that these cases be dealt with responsibly by protecting women and imposing sanctions that are equivalent in harshness to the perpetrated crime.
It should be noted, on a more positive note, that 11 of the 16 requests for protection submitted by Kafa to the Public Prosecution have been granted during the month of June.
In conclusion, it is the duty of legislators and State institutions to provide protection for women. Moreover, the State should allocate budgets to provide services for women who have been subjected to violence as quickly as possible, since the need is becoming more and more urgent. The State should also implement Law 293, which provides for the creation of the Victims Support Fund and MPs must approve amendments submitted for the Law on Domestic Violence, specifically the article on children's inclusion in the protection granted to their mother, regardless of the age of custody.
Translated from Arabic by Work with Words